For any living under a rock, #SpeakingOut is a movement in recent weeks that has exposing a litany of professional wrestlers for their misogynistic behavior publicly calling them out to be dealt with. In the wake of everything occurring throughout the world, it's a breath of fresh air to see those in the business who need action taken against them start to suffer for their behavior.
What we're seeing is a systemic change; where allegations are being met instantly with action and repercussions. You might say that #timesup to live by the "wait and see" or "innocent until proven guilty" defense used by many who bear the brunt of the hashtag. But it's clear by way of all that has come out:
Women will be believed. They will be heard. And those accused must deal with the ramifications.
While I could love to just spend time going over each tweet and what all has transpired already, I'd rather select a single instance, break it apart, and showcase how well it's already been dealt with.
In 2016, AEW's Sammy Guevara appeared on The Whole F'n Show podcast. When asked about his opinion of WWE superstar Sasha Banks (Mercedes Kaestner-Varnado), Guevara —22 years old and stupid AF — said "Bro, Sasha Banks, oh my god. When I was at WWE the other week I just wanted to go f*cking rape that woman."
At the time, Sammy (young and stupid) was a no-one with no real place of prominence in the independent scene. Cut to 2020, when he exists as one of AEW's top young talent — often regarded as the future of the business by too many veterans to count. In response to this audio resurfacing, I personally expected Guevara to be smacked on the hand and told he was naughty. Banks herself seemed to extinguish any rising flames with her accounting of Guevara reaching out to apologize: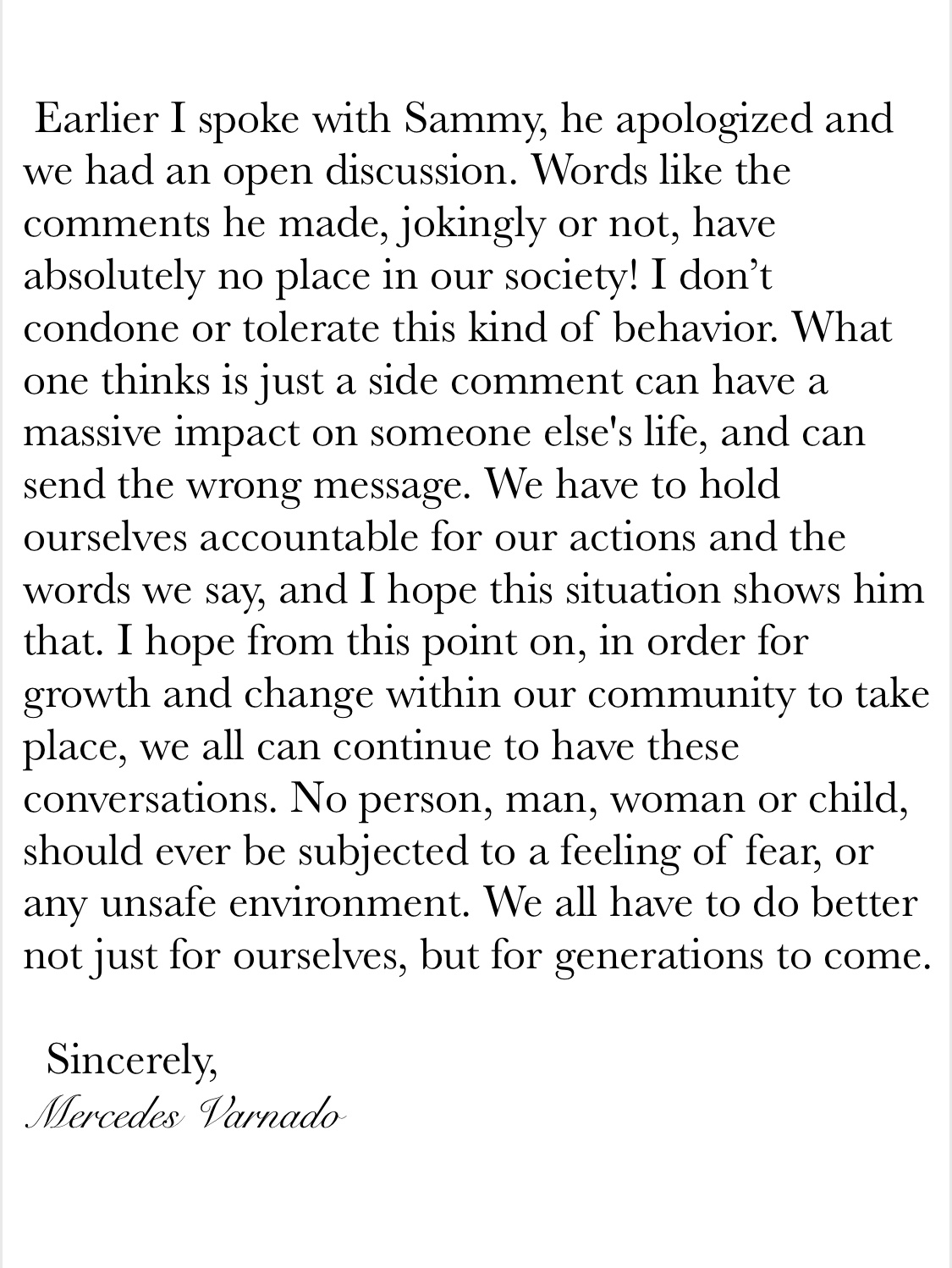 People can change a hell of a lot in 4 years. But our past indiscretions aren't given a free pass from scrutiny, full stop. AEW slapped Sammy Guevara with an indefinite suspension with no pay, commanded him to attend sensitivity training, and left his future at the company to be discussed "at a later date". His forfeited salary will be donated to the Women's Center of Jacksonville.
I can't applaud this any harder. And I say it fully-throated as a fan of the man. In the ring he's as great a talent as the AEW commentary desk labels him. As a young ward of Chris Jericho as part of the prominent stable The Inner Circle,  Guevara has shined in his (played) sliminess. But the buck stops at the character. The art is now separated from the artist.
As others are called out for their inexcusable malfeasance, Sammy is now set to feel as powerless and insubstantial as he might have made Sasha Banks feel even if his comment was clearly made in jest. The rocket being strapped to him in his professional career has now but cut off from him, and will be given to someone ready to steal his spot. While he clearly took the right steps to set things straight, the work now has to be put in, and who is to say if the company will take him back? The WWE now will never come calling, which would leave the 26 year old very few options to have the career he was set to have in All Elite. Not to say he can't come back from the right training, learn fully the error of his ways, and slowly earn his way back up the card.
For his sake, I hope he does all that is set in front of him. But if he winds up a footnote on a list next to others like Velveteen Dream, Will Ospreay, Jimmy Havoc, Dave Lagana, Jordan Devlin, Jack Gallagher, Justin Roberts, and Joey Ryan (to name literally barely a third of those called out thus far) I suppose I won't cry any crocodile tears at the loss.